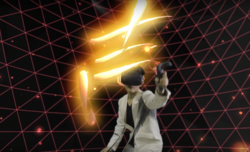 〈English follows Japanese〉

元来、書もしくは文字を作った古人は実にクリエイティブでした。人に伝える為、記録の為そしてそれを使い易くする為。彼らは自分達の価値観や信仰生活を文字の中に盛り込み創造してきました。これは一種の表現だと感じました。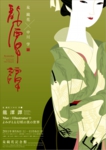 書の持つ線の清々しさ、日本の美意識。
そんな物を引き出し、現代の表現として創造していこうと思っています。




SHODO (Japanese calligraphy) is an art of expressing character on paper with a brash and ink.
The Chinese roots of SHODO go back around 3500 years before to a time when Chinese character was established.
This Chinese calligraphy (character) was introduced with Buddhism to Japan, thus from around the 6th century, we can see the history of Japanese calligraphy.
Around 8th century, calligraphy in the Chinese tradition style was changed and improved unique to Japan. Being devised Japanese character and writing WAKA (Japanese poem), their concept of nature and aesthetics were mixed into SHODO.
Japanese calligraphers got to their different styles, which represented the beauty on the paper of not only character's form, but also flow of line, color and tone of ink, and spacing, etc.
In around 1900, the calligraphers began to create abstract works which gave the expression of brush work line and black-and-white aesthetics. They sophisticated and diversified their expression as abstract art through interaction with European artists, for example, Lucio Fontana in around 1930.
Today, beyond plain works with ink and paper, their expressions expand to cubic or various materials works, like Ueta Hiroshi's works, to be evaluated as contemporary art.